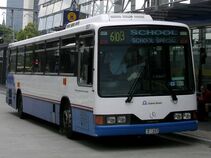 Introduction
Edit
The Mercedes-Benz O405 Custom Coaches 516 is an air-conditioned bus in the Sydney Buses fleet. The buses are not wheelchair accessible and the body is built by Custom Coaches.
The four buses (fleet numbers 3530-3533) were originally operated by North and Western Bus Lines and were acquired by Sydney Buses in 1999. They were at Brookvale Depot and now based at Ryde Depot
SpecificationsEdit
The O405 Custom Coaches 516 buses are diesel-powered and 12.5 metres long.
The buses are painted in the Corporate v1 (blue and white with thin red line) livery.