This is not to be confused with the Volvo B7RLE CB80 or Scania K280UB Custom CB80. The Mercedes version has a Denso Air conditioner and grey handlebars seen on Forest Coach Lines buses. A major difference is that it only has a single leaf door at the back. This is because this buses was originally a demonstrator not built to STA specifications. It was supplied by Mercedes-Benz when M/O 4878 (CNG) blew up. The original plates were used on this thus it carries an original yellow plate.
The only Mercedes O500LE CB80 in STA's fleet is m/o 4878. It is located at Randwick Depot. The only time you might see this bus on the North Shore is when it does a 343 route.
The bus is painted in the blue-white-blue TfNSW livery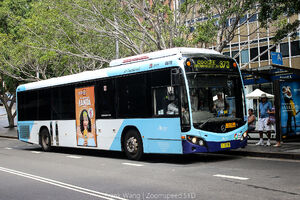 Ad blocker interference detected!
Wikia is a free-to-use site that makes money from advertising. We have a modified experience for viewers using ad blockers

Wikia is not accessible if you've made further modifications. Remove the custom ad blocker rule(s) and the page will load as expected.