Route 190 and its daytime limited-stops counterpart, the L90, are bus routes which run from Sydney City (Railway Square) to Palm Beach via Wynyard, Sydney Harbour Bridge, Military Road, Spit Bridge, Condamine Street, Pittwater Road and Barrenjoey Road. Route 190/L90 is the longest route run by Sydney Buses, stretching 43km between Railway Square and Palm Beach. The route takes in spectacular and scenic scenery of the Northern Beaches and is commonly used by beachgoers and surfers.
Route 190
Edit
Route 190 only operates during late nights, and early Saturday and Sunday mornings when Route L90 is not running. Route 190 makes all stops along the L90 route, and deviates via Pacific Highway, Miller Street and Falcon Street to serve North Sydney, and also deviates along Sydney Road and Condamine Street in Balgowlah.
Route L90
Edit
Route L90 operate limited-stops services seven days a week, half hourly during weekdays and every twenty minutes during weekends.
It takes little over 11/2 hours to cover the whole route from end to end.
Limited stops
Edit
Railway Square (Stand B)
Rawson Palace
Town Hall
Market Street
Wynyard Station (Stand C)
Neutral Bay - Wycombe Road
Mosman - Spit Junction
Brookvale-Warringah Mall
Dee Why - St Davids Avenue
Collaroy - Collaroy Street
Narrabeen - Waterloo Street
-then all stops to Palm Beach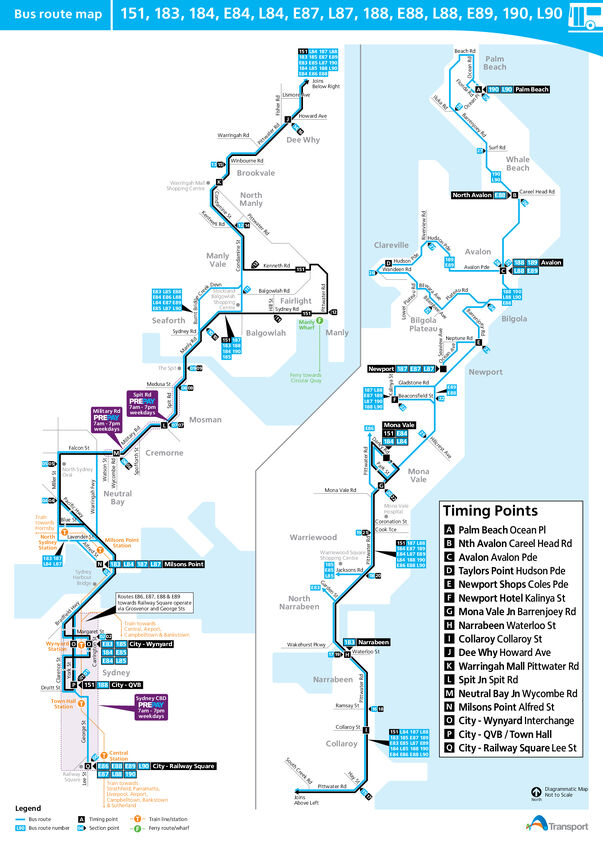 Ad blocker interference detected!
Wikia is a free-to-use site that makes money from advertising. We have a modified experience for viewers using ad blockers

Wikia is not accessible if you've made further modifications. Remove the custom ad blocker rule(s) and the page will load as expected.