Route 200 is a weekday, peak hour, limited-stops bus route running between Chatswood Station and Bondi Junction Station via Pacific Highway, Sydney Harbour Bridge, Cahill Expressway, Macquarie Street, Kings Cross and Edgecliff.
Services
Edit
Route 200 operates only on weekdays in peak hours, during these specified times
From Bondi Junction to Chatswood
Edit
Between 6:20am and 9:42am
Between 2:57pm and 6:45pm.
From Chatswood to Bondi Junction
Edit
Between 6:27 am and 9:55am
Between 2:10pm and 7:10pm
The first/last few services run at a frequency of 30 minutes. This later increases to 20 minutes, with services running every 10-13 minutes for a short period, throughout the peaks.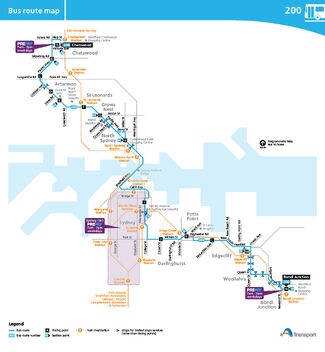 Ad blocker interference detected!
Wikia is a free-to-use site that makes money from advertising. We have a modified experience for viewers using ad blockers

Wikia is not accessible if you've made further modifications. Remove the custom ad blocker rule(s) and the page will load as expected.