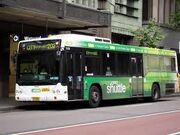 Introduction
Edit
The 202 is one of the bus routes operated by Sydney Buses in the North Shore region.
Route Description
Edit
The 202 route operates between Northbridge and North Sydney during peak hours or the City (Wynyard) via North Sydney Station, Miller St and the Sydney Harbour Bridge during off-peak hours.
Timetable and Map
Edit
To download the map for this route, click here. (PDF file, 360 KB)
To download the timetable, click here. (PDF file, 255 KB)
To save the file to your computer, press Ctrl+S when the file opens.
Ad blocker interference detected!
Wikia is a free-to-use site that makes money from advertising. We have a modified experience for viewers using ad blockers

Wikia is not accessible if you've made further modifications. Remove the custom ad blocker rule(s) and the page will load as expected.