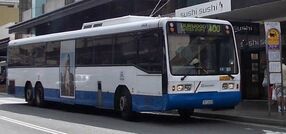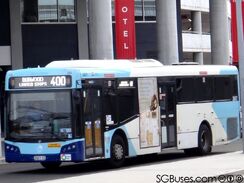 Route 400 is a limited stops bus route from Burwood Westfield to Bondi Junction Interchange. Frequent services only run betweeen Bondi Junction and Eastgardens. It runs through 2 regions, the Inner West region (region 6) and the Eastern Suburbs (region 9) and passes through many landmarks like the Airport. A wide variety of buses, from B, K and W primarily are used on this route. However, due to the routing at Westfield Eastgardens that takes the bus around a circuit of the shopping centre, bendy (articulated) are not allowed to run this route. This is because there is a tall speed bump that can damage the turntable of articulated buses and also inadequate layover space. Instead of bendy buses, due to the high patronage, some 14.5m buses (Scania L113TRB) are used.
Route 410 is a Prepay Only limited stops route that operates along some sections of the 400 route. It only runs on weekdays, from approximately 7am to 9am, then from 3-6pm. It runs between Rockdale Station and Bondi Junction. Unlike route 400, it doesn't divert into International or Domestic Airport, instead continuing along Airport Drive.
Areas Served
Edit
Burwood
Burwood Heights
Enfield
Croydon Park
Campsie [can terminate here in special circumstances (e.g. late running, driver time restriction)]
Clemton Park [Driver Relief Point, Staff car from Kingsgrove Depot (not bus due to limited space)]
Bexley North
Bexley
Rockdale (410 route start)
Banksia
Arncliffe
Sydney Airport (International & Domestic) (410 does not stop except at QANTAS Jet Base)
Mascot
Pagewood/Eastgardens [short working destination]
Maroubra
UNSW (Randwick)
Waverley
Bondi Junction
Ad blocker interference detected!
Wikia is a free-to-use site that makes money from advertising. We have a modified experience for viewers using ad blockers

Wikia is not accessible if you've made further modifications. Remove the custom ad blocker rule(s) and the page will load as expected.