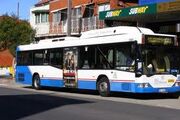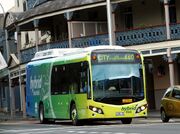 Introduction
Edit
The 440 is one of the bus routes Sydney Buses operates in the Inner West region of Sydney. On the 4th of October 2015, as part of Light Rail Construction, it was merged with route 378.
Route Description/Variations
Edit
The 440 route operates between Rozelle and Bronte Beach via Norton St Leichhardt, Parramatta Road, Paddington and Bondi Junction. Some inbound 440 services terminate at Wynyard, while some outbound services terminate at Leichhardt. This route is usually operated by buses from Leichhardt depot.
the 440 bus is never on time from oxford street. Its very annoying.
Timetable and Map
Edit
Ad blocker interference detected!
Wikia is a free-to-use site that makes money from advertising. We have a modified experience for viewers using ad blockers

Wikia is not accessible if you've made further modifications. Remove the custom ad blocker rule(s) and the page will load as expected.