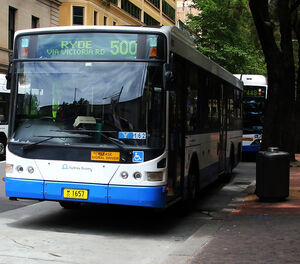 Route 500 and its weekday peak-hour express counterpart, the X00 are bus routes which run from Circular Quay to Ryde at Top Ryde City Shopping Centre, via Victoria Road.
Basically Route 500 and X00 are extra short-turn routes for the M52 and 520 routes which extend to Parramatta, to supplement Victoria Road buses between Ryde and the City.
Route X00
Edit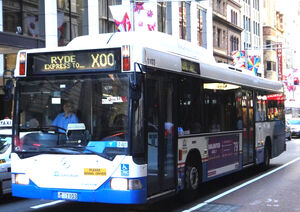 During weekday evening peak hours, Route 500 is supplemented by seven PrePay express services of the X00, which originate from Harrington Street near Grosvenor Street (Stop 2000166), which do not stop between Kent Street, City and Lyons Road, Drummoyne.
The X00 departs from Harrington Street near Grosvenor Street (Stop 2000166) at the following times:
4:39pm
4:58pm
5:09pm
5:14pm
5:34pm
5:43pm
6:03pm