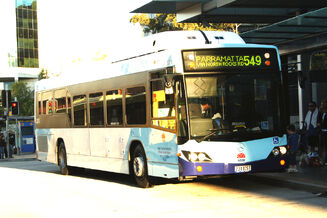 Route 549 is a bus route which runs from Epping Station to Parramatta, which mainly encompasses the whole lengths of Ray Road and North Rocks Road.
Originally what is now Route 549 was part of Harris Park Transport's 623 and 629 routes.
When Harris Park Transport ceased operations, their northern Sydney operations were passed to Hillsbus on December 2004.[1] After Hillsbus parent company Westbus experienced financial problems, the former Harris Park operations passed to Sydney Buses on 28 January 2005.[2] After Westbus (including Hillsbus) was acquired by ComfortDelGro Cabcharge, negotiations were reached to transfer some of the former Harris Park routes back to Hillsbus. 623, 628 and 629 were some of those that remained with Sydney Buses (the other one is 624, now M54)
On 4 November 2007, reorganisation of the former Harris Park Transport routes by Sydney Buses caused renumbering and alteration of the routes. The new route 549 was formed from segments of the 623 and 629 services.
Ad blocker interference detected!
Wikia is a free-to-use site that makes money from advertising. We have a modified experience for viewers using ad blockers

Wikia is not accessible if you've made further modifications. Remove the custom ad blocker rule(s) and the page will load as expected.