Route 555, is no longer in operation!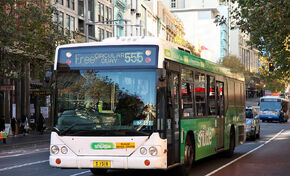 Route 555, also known as the Sydney CBD Shuttle, it was a free shuttle route run by Sydney Buses in the Sydney CBD. It mainly ran as a loop along George Street between Circular Quay and Railway Square and vice-versa. The buses used on route 555 were given a customised green livery to stand out against other Sydney Buses routes.
Route 555 was launched on December 3, 2008 by the then-New South Wales Premier Nathan Rees. Route 555 initially ran as a George Street-Eddy Avenue-Elizabeth Street-Bridge Street loop, but was later altered to a shuttle route running up and down George Street.
Route 555 is no longer in operation!
Ad blocker interference detected!
Wikia is a free-to-use site that makes money from advertising. We have a modified experience for viewers using ad blockers

Wikia is not accessible if you've made further modifications. Remove the custom ad blocker rule(s) and the page will load as expected.