M54 is a route that runs between Macquarie Park and Parramatta via Epping, Carlingford and Pennant Hills Road.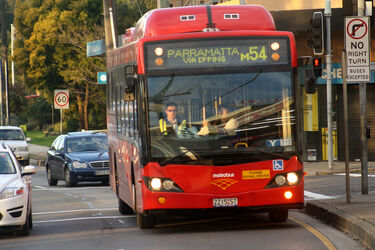 It commenced in October 2010 after the 548 was extended from Epping to Macquarie Park.
M54 originally started as route 624, operated by Harris Park Transport. After Harris Park Transport decided to cease operations, their northern Sydney operations were passed to Hillsbus on December 2004.[1] After Hillsbus parent company Westbus experienced financial problems, the former Harris Park operations passed to Sydney Buses on 28 January 2005.[2]
After Westbus (including Hillsbus) was acquired by ComfortDelGro Cabcharge, negotiations were reached to transfer some of the former Harris Park routes back to Hillsbus. 624 was one of those that remained with Sydney Buses.[3]
On 4 November 2007, reorganisation of the former Harris Park Transport routes by Sydney Buses has caused renumbering and alteration of the routes. As such, all diversions of 624 ceased and 624 was altered to run by Pennant Parade then Carlingford Road in both directions. The new route was renumbered 548.[4][5]
After the introduction of Metrobuses, the 548 was promoted to Metrobus M54 and extended to Macquarie Park. As a result, eastbound services were amended to run along Midson, Carlingford and Beecroft Roads before continuing to Macquarie Park via Epping Road, Macquarie University, Macquarie Centre and Waterloo Road.
References
Edit