Introduction
Edit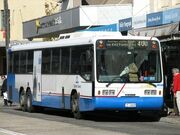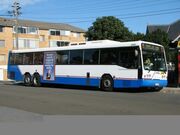 The Scania L113TRB is a non-wheelchair-accessible, air conditioned bus model which entered service in 1993 and 1994 as part of an order for 300 new Scania buses. The buses have individual cloth seats and electronic destination displays and are the first six-wheeled bus model to be delivered to Sydney Buses. There are 48 in service right now. It is easily recognised by its second axle at the back.
Service and Specifications
Edit
The 48 buses (fleet numbers 3411-3421,3423-3446 and 3448-3460) are located at Kingsgrove, Port Botany and Willoughby depots[1]. Buses 3428 and 3435 have a seating capacity of 59, while the remainder of the buses have a seating capacity of 61. All of the buses are 14.5 metres long and are diesel-powered, Euro 2, 11.02 litre Scania DS1134 turbocharged engines that outputs 310 bHP. It has a ZF-5HP500 with speed limiter set at 80. [2].The bodies are built by Ansair. Most have Mobitec ICU400 destination controllers, but as seen from older photos, they used to have a different brand of destination board, possibly an Alcatel/Southport one.
The ones in Kingsgrove depot almost exclusively do route 400, which has very high patronage. The ones in Port Botany depot mostly do express via Eastern Distributor routes in the peaks and route L94 throughout the day.
Paint and Refurbishments
Edit
The L113TRB buses were originally painted in the Corporate v1 (blue and white with thin red line) livery, however they have all been refurbished and painted with Corporate v2 livery instead. There are many remnants of the Corporate v1 red lines, mostly on the front.
References
Edit
Ad blocker interference detected!
Wikia is a free-to-use site that makes money from advertising. We have a modified experience for viewers using ad blockers

Wikia is not accessible if you've made further modifications. Remove the custom ad blocker rule(s) and the page will load as expected.